f b c g d e a ravelite.org f g b d e c a
2019 in review
Wed, Feb 19, 2020
Another year, another review. It's hard to summarize a year, but I am trying.
Research / Projects
From the projects log
Reading over my projects/research log, it seems the following progress occured:
Built a graphical user interface for my particle-based sampling synthesis routines.

Minimal Mosaic interface

Created a module that samples from multiple input source files, by skipping from source file to source file:

Tried and failed at finding a better importance distribution for my model.

Used line profiling to speed up the sampling process, as well as static analysis for refactoring.

A big detour: tinkered with MCMC sampling using the Stan software. At last, I was convinced this would not work, due to the multimodality of my likelihood model.
Besides that project, I:
Found some setup for trying to livecode using VST synthesizers.
Virginia Stuff
Late 2015, I inherited the 1944 wartime diary from my great Aunt Virginia, detailing her overseas service with the American Red Cross in Australia, running recreation camps for Americans there. In the following year, I undertook a project to digitally preserve the diary.
In order to scan it with minimal wear, I followed this "Bargain Price Book Scanner" tutorial. Then, I used the Scan Tailor software to post-process the scanned pages; and some unholy use of a file browser and printer driver to compile them into a PDF file.
The uncropped pages looked like this: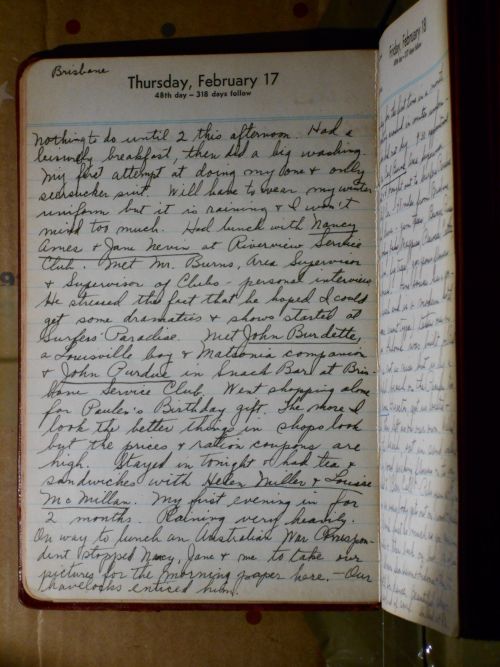 So, having scanned the whole thing, I thought of transcribing the diary. This would serve two purposes: one, to get the diary into a more compact and legible format (perhaps later to print); two, to lead myself to attentively read the content.
Reader, this is where 2019 comes in. I transcribed nearly all of the main diary entries into a LaTeX template that I created. It was relatively easy to get into the flow of transcription in small blocks of free time, and I was quickly drawn into the story. The main text is now transcribed, save some additional material that relates to it.
In the course of transcription, and additional internet research regarding places and people, I uncovered something unexpected: two oral history interviews made in 1983 with Aunt Virginia that very clearly outline her overseas service (exceeding the period of the diary). The interviews are part of a collection "Women's Overseas Service League Oral Histories" that is now hosted by the Michigan State University Libraries, and can be accessed here (also with transcriptions):
And that is the current state of the diary project.
Work
During the year I had several projects. Besides the prior work in multi-object tracking, my main project involved the auto industry. It was an interesting opportunity to work in a distributed team, and apply some software engineering skills.
As the year ended, I got a chance to get some experience with deep learning frameworks, and autoencoders on a research project involving human motion data.
Garden
This year X got involved with Kleingarten scene. She offered to help plant with a friend/colleague from the pastry world. I didn't help that much, but I did do a share of hanging out in a garden in summer, which is a cool thing to do. We also befriended the neighbors, an older Portuguese couple, and X threw a party with giant stuffed zucchini.
Survey of things we harvested/recieved:
Boskoop apples
broccoli, romanesco, and cauliflower
chard, arugula,
summer savory, and thai mint, parsley
redcurrants, blackcurrants, josta berries, and blackberries, strawberries
green beans, and zucchini
sunflowers and edible flowers
potatoes.
Travel
Twin Cities
Work travel took me far south, and I was able to visit some friends whom I had long not seen. That's how I got to know the German twin cities, Mainz and Wiesbaden, separated by the Rhine and belonging to different federal states.
Below is a picture of an underground Roman temple beneath a shopping center, because that is a thing that exists.
Amsterdam
This was a normal visit to family friends, but our hosts made it special by arranging for us to take part in a dinner organized by artist Unobento, which combined cooking with special Japanese ingredients that she bartered for with Dutch cheese and beer; like these pickles:
.
Bregenzerwald
After hearing often the glories of the Austrian alps, we were able to plan a trip together with our landlord/friend. We rented an apartment in Schoppernau, in the Bregenzerwald area, and did many day hikes in the area (during summer the lifts were free with lodging).
We also did a few cultural activities, such as visiting the Bregenz summer music festival, known for its open-air stage on the shore of Lake Constance (though our performance was indoors, Eugene Onegin); as well as a craftswork fair with show pieces from carpenters/metalworkers in Besau; and a visit to the city Dornbirn.
Culinary highlights were Semmel rolls, cheese spaetzle, pancake soup, the bracingly bitter Gentian schnapps.
The unofficial theme song of this trip was something I discovered during our lodging search. It is sung in Voralberger dialect, about transportation difficulties emerging after a night of drinking in a neighboring village:
Portugal
This year X organized a fantastic trip of Lisbon, and points in Alentejo for my parents. It was the first time for them in Portugal, and first chance for them to meet her family.
We toured picturesque spots in Lisbon and had dinners with family. Later, we visited X's village long enough to pick leaves from her courtyard garden, and stayed in an old guesthouse overlooking the Tagus.
Harz
My parents visit continued here to Germany, where we did a short trip to the Harz mountains, specifically to Bad Harzburg ("Bad" in the name usually means its for retirees and recovering patients). But we had nice weather, and contemplative hiking:
Music
Not much got finished in 2019, though I did start some new songs and adaptations.
Talent Show from 2018
I finally uploaded the 2018 talent show: bts2018 including this spectacular take on Mozart:
Short Reviews
////
Though shrouded in secrecy, name evoking a Zigzag stitch, this artist has released a modestly-framed "mixtape" of guitar, electronics, and found sound, free to the youtube masses. Light and crystalline, broad and cavernous, antique and digital, LINEDRAWN gives us a lot to experience within three quarter hours.

Here's a link to the album, and one of my favorite tracks, the soaring Eno-Frippertronic anthem "springtime in frisia":

.
Laurie Spiegel:
Her older work was released as The Expanding Universe. It was composed and recorded in the late 70s, but remains the algorithmic counterpoint we all wish we could have written. My favorites are the metronomic Patchwork, the Appalachian Grove series, and (in a suprising programmatic note) The Orient Express.
The title year saw the rerelease of Unseen Worlds which covers the more abstract and atmospheric sonic journeys of the 80s. Both are total jams.
Games/Entertainment/Misc
Video
Besides Go stuff (Gopro Yeonwoo, NYIG_Go), and music stuff (Sound Field, Nahre Sol);
Karambolage
One great series (in German, or French language I presume) is Karambolage (from the Franco-German public broadcaster ARTE), a series of short videos comparing the French and German cultures. For example, you can be enlightened about differences between:
learn about
as well as
The video series is collected among playlists: 1 2 3.
Books, Games, misc
Besides the diary,
I finished book I and started book II of Proust's In Search of Lost Time.
I read Barto and Sutton's Reinforcement Learning, which clarifies the link between dynamic programming and reinforcement learning.
fin